NO SLEEP TILL BROOKLYN!
In 2018, NYCRUNS flagship race made it to the street for the first time and thousands of runners toed the start on Eastern Parkway near the Brooklyn Museum. Join us on October 16, 2021 and take a tour through historic Brooklyn USA. The race will showcase Brooklyn neighborhoods including Prospect Heights, Crown Heights, Windsor Terrace, and Kensington and finish in iconic Prospect Park.
This race is part of the Triboro Challenge, see below for details
THE COURSE
The USATF Certified courses will be electronically timed using the MYLAPS Bibtag system. There will be timing (split) points and clocks throughout the course. Water, Gatorade, and restrooms will be available approximately every 1.5 miles, and medical support will be available throughout the course.
Half Marathon Course Map With Elevation Profile
Full Marathon Course Map With Elevation Profile And Loop Detail
Please note while handcycles and wheelchair athletes are very welcome in the half, due to the loop nature of the course, we cannot allow them in the marathon.
NOT RACE BROOKLYN- FUHGEDDABOUDIT!
NYCRUNS is known for putting on running events of the highest quality. After the race, change into your NYCRUNS Brooklyn Marathon & Half Marathon race shirt* and wear your incredible medal with pride!
Enjoy a fresh New York bagel (with a shmear of cream cheese of course), New York State apples, and more while listening to a world class DJ and seeing your friends cross the finish line. Your friends can track you and you can revisit your race by checking out the app and digging on the free photos taken along the course and at the finish line (video too!).
*Sizes are guaranteed – if we don't have your size at the race, email theteam@nycruns.com within two days of the race and we'll ship your shirt to you. Make sure to include the race name, your name, size and shipping address. Shipping to domestic US addresses only.
Looking For More Information, Check Out The Website.
GET YOUR IN TRAINING GEAR & MORE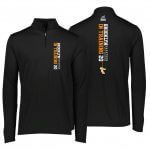 Get in gear and get training for Brooklyn 2020. This hot quarter zip is wicking, tapered fit, 1/4 zip with set-in sleeves, in a 100% poly fabric. Great for training on a brisk day!  This and much, much more  available in the store!
BIB & SHIRT MAILING
If registering on or  before September 22nd, you can choose to have your bib & shirt mailed to you for an additional fee of $25. You must choose this option when registering and the bib and shirt must be mailed to the address you enter at that time. Shipping to domestic US addresses only. Bib & shirt mailing is included when you become a VIP!
VIP
Upgrade your Brooklyn Marathon & Half Marathon experience and become a VIP! In addition to the  standard amenities , VIPs will also enjoy:
Entry for yourself and one guest (not another participant) to a private post-race area on race day that includes tables, chairs, dedicated food and hydration for VIPs and guests only.
Exclusive VIP-only giveaway.
Your bib & shirt mailed to you before the race (domestic US shipping only) – skip the lines at packet pickup!
Your Name Printed On Your Bib  (no longer available due to time frame)
Guaranteed entry into the 2021 NYCRUNS Brooklyn Marathon & Half Marathon.
All of this for just an additional $100! After registering, please email theteam@nycruns.com to see if there is still time and space.
VIP spots are limited, don't miss out!
COST
| | | |
| --- | --- | --- |
| Price Through | Half Marathon |  Marathon |
| April 30th |  $80. | $150.00 |
| June 30th | $90. | $165.00 |
| August 24th | $100. | $180.00 |
| October 4th | $125. | $195.00 |
| October 13th | $135. | $200.00 |
| Until Expo Ends | $150. | $220.00 |
There will be no race day registration.
NYCRUNS members receive a 10% discount, race deferral rights, and other perks. NYCRUNS members who transfer from marathon to half marathon will receive the difference in price in the form of race credit.
All registrants can transfer from one distance to the other, assuming space is available in the desired distance. Those who wish to transfer from half marathon to marathon need only pay the difference. Runners transferring will need to exchange their bib at the City Point expo if they already possess it.
Please contact us to start the transfer process.
RESULTS, AWARDS, FINISH LINE PHOTOS & VIDEO
Results will be emailed (often during the race) and the full results will be posted on our results page after the race. Finish line photos and video will also be available on the results page several days after the event.
Awards will be given to the top three overall male and female finishers as well as the top three male and female finishers in each of the following age groups: 19 and under, 20-24, 25-29, 30-34, 35-39, 40-44, 45-49, 50-55, 55-59, 60-64, 65-69, 70-74, 75-79, and 80 and over.
Our awards policies are available here.
PRIZE MONEY
First place in either race this year nabs $500., second, $250., and third gets you $100.
AbbottWMM Wanda Age Group World Championships
For more information on the scoring system and world rankings, visit www.Abbottwmm.com
VOLUNTEER
Want to race this one for free? Volunteer at any of these upcoming events and rack up as much credit as you can. Or in lieu of credit for yourself, you can have us donate $25 per shift to a cause partner of your choice. What's this all about, anyway? Learn more about the volunteer program here.
THE TRIBORO CHALLENGE
You like your bling and you want everyone to know how hardcore you are? Then run either the NYCRUNS Brooklyn Marathon or Brooklyn Half Marathon, the NYCRUNS Queens Half Marathon or Queens 5K, and either the NYCRUNS Central Park Half Marathon or the NYCRUNS Big Apple Half Marathon and in addition to the great medals we give out for each race, receive a great commemorative medal hanger!
DIRECTIONS
Please take public transportation if possible. The 2/3 Train to Grand Army Plaza is steps from the start and the Q is not much further. The 2/3 stop at Eastern Parkway - Brooklyn Museum stop will be closed. Please check mta.info for the most up to date information on public transportation.
Driving is not recommended due to limited street parking.
POLICIES
The standard no-refunds, no-deferrals, no-transfers policy applies, unless you are signed up for the NYCRUNS Membership Program. NYCRUNS members receive a 10% discount, race deferral rights, and other perks. Strollers or dogs are not allowed in NYCRUNS races and you may be disqualified if earbuds or headphones hinder your awareness. You must remain on pace to finish within the time limit in order to receive course support and an official finish time. Please familiarize yourself with our complete policies and rules of competition here.
Along with all the fun, NYCRUNS is committed to providing a safe and secure environment for all participants and spectators. Please be aware that runners must pass through metal detectors to enter the start corrals and all checked bags will be screened. Complete details & instructions will be provided to registered runners closer to race day.
As per the Protecting Young Victims from Sexual Abuse and Safe Sport Authorization Act of 2017, any adult interacting with amateur athletes, defined as a child or minor under the age of 18 that participates in youth running programs or any events hosted or operated by NYCRUNS, has a duty to report a reasonable suspicion of sexual misconduct such as child sex abuse, non-consensual sexual conduct, sexual harassment or intimate relationships involving an imbalance of power within a 24- hour period to local law enforcement by calling the New York State Central Register at 800-635-1522. Participants found to be listed on a sex offender registry, convicted of a sex crime, or caught having, creating, or distributing child pornography will be immediately barred from all NYCRUNS events.
Race Contact