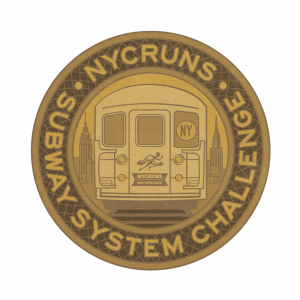 How can I register?
Register here, and thank you!
Can I upgrade my registration? 
You may, please email theteam@nycruns.com.
Can I use race credit?
Due to the charitable component of this event, race credit cannot be used towards your registration. You may use it for any of our other virtual offerings.
How do I track and submit my miles?
You can track your miles anyway you want and with any device you want. Strava, Runkeeper, a notepad, whatever. Our accountant has been keeping a detailed spreadsheet for decades which he shares at the end of the year.
To log miles, please go to your NYCRUNS Dashboard where you will find a unique link to our new Run This One scoring system. This link will provide access for both you and any children registered via your account. Please do not share it with anyone.
Using this new system, you will be able to log your miles on a day by day basis starting on 5/25 (earlier miles will be deleted). The only way to log your miles is by entering them manually. When you are done with each week, please click the submit button to get your postcards. Each week starts on Monday and ends on Sunday. New postcards will be available by Monday.
Sorry, there is no direct Garmin/Apple/Strava or similar integration.
We expect to have fully searchable results available by 6/8 at the latest and will let you know when they are in place. You will be able to track teammates. If you are on a team that will be reflected in the new system. You may change your team by clicking the editing button next to your team name or by changing it in your NYCRUNS profile.
It's all on the honor system. We trust you.
If you like, we recommend you use the Strava Club we created and post your progress (and anything else you want) on the Facebook event page.
How do I add/change my team name? How do people join a team?
When you register, please enter your team name in the club/team field.
Starting Monday 5/25, you can change your team name by going to the club/team field in your user profile on your NYCRUNS dashboard.
What's this about virtual bibs and postcards?
Oh, this is pretty cool. You should get the first one within 24 hours of registering along with some more information. if you don't, please check your spam filter. If that fails, email us at theteam@nycruns.com.
Any other cool stuff I can share on social?
Cooler than the virtual bibs? We have some Facebook frames in place and we have some Instagram Gifs coming out later this week.
When should I get my swag?
Most participants have received a tracking number from USPS by now. This email is generated when your label is printed. Regardless of the date of the notice, all items will begin to be shipped on June 15. Shipping will continue throughout the week until all items have been mailed.
How come you don't have women's hoodie sizes?
This is why we order 4 months ahead of time! We've switched to Unisex Sizing for the hoodies. If you normally wear a Women's Medium, a Unisex Small is the comparable size.
Anything else?
Have fun! More than anything else, we want you to enjoy this.