THE CHALLENGE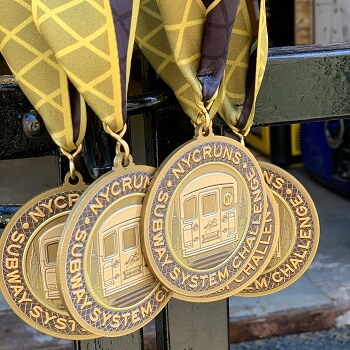 The New York City Subway system is comprised of 245 miles of route track between its 472 stations. How many weeks will it take you to run or walk that distance? We'll give you as many as 15, and you have the entire summer to get it done, starting Memorial Day. If you are registering after Memorial Day, you may use miles run since then.
This challenge should provide you an excellent test of fitness and an opportunity to plan and push your training a bit as well no matter how many miles you run weekly. A little over 2 miles a day on average is all it takes! Hopefully, racing returns by the time you are done and you are in the best shape of your life - NY Strong!
You get to help out a bit here too as a portion of the proceeds and 100% of donations (minus credit card processing fees) will be going to the The Robin Hood Relief Fund, an established non-profit with a long history in service of NYC. Robin Hood will deploy your support to vulnerable New Yorkers and the organizations on the front lines that serve them during the COVID-19 crisis and its aftermath.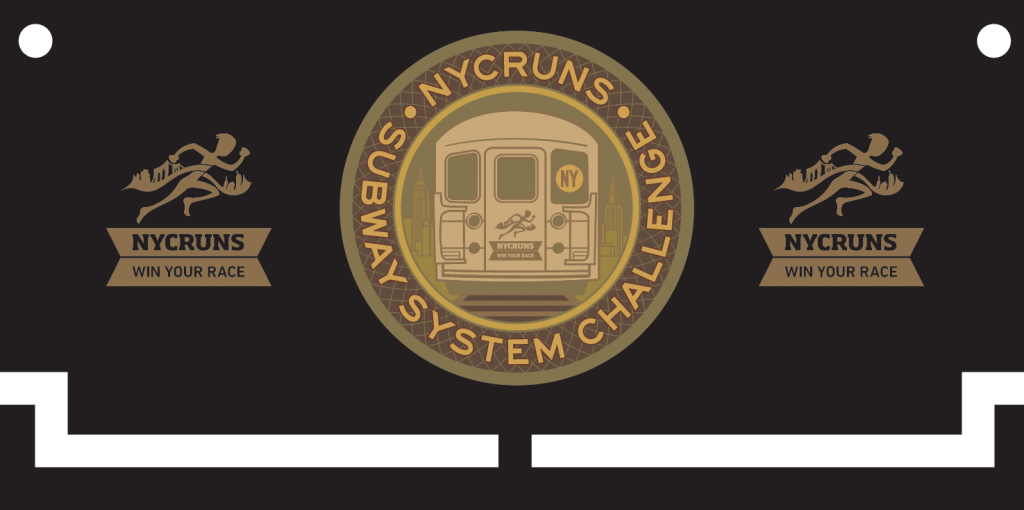 THE INTERCLUB CHALLENGE
You can take part of this as part of a Club or Team while practicing social distancing.  If your club has ten or more members, each member will get a race credit for 10% of their registration price when registration closes, if registered prior to 6/7).
Clubs and Teams will be challenged in a number of different ways. Keep an eye on your email for challenges every few weeks.
HOW IT WORKS
Most importantly, have fun.
You can run anywhere you want, including a treadmill, but please do not run on subway tracks or in subway stations.
You can track your miles anyway you want and with any device you want. Strava, Runkeeper, a notepad, whatever. Our accountant has been keeping a detailed spreadsheet for decades which he shares at the end of the year. Steve sometimes just logs miles in his calendar.
You will be submitting your miles through  our new Run This One results system which is accessible to registered runners via their dashboard .
It's all on the honor system. We trust you.
If you like, join the Strava Club we created and post your progress (and anything else you want) on the Facebook event page.
WHAT YOU GET & WHAT IT COSTS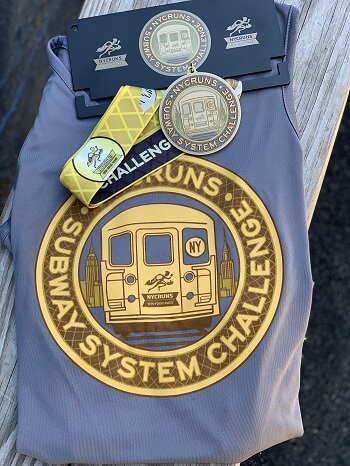 There are three tiers of pricing for the NYCRUNS Subway System Challenge.
Most runners will probably want to select the Token Collector tier. For $60. you will receive, a fantastic medal based on the classic NYC subway design, a great gender specific singlet perfect for summer running, and a  gender specific hoodie (some sizes unavailable) for those cool summer evenings. We'll be shipping these on an ongoing basis beginning in June.
If you want a little extra, you can also sign up as a Transit Enthusiast. You'll still receive everything in the Token Collector package, however, we're not ready to say quite yet what you'll get. You're going to have to settle for a nice surprise.
Alternately, if you don't want anything at all, you can participate in the challenge at the Turnstile Jumper level  and we  won't send you a thing other than email. This is the only option if you do not have a U.S. shipping address.
NYCRUNS members receive a 10% discount, race deferral rights, and other perks.  Due to the charity component, we are unable to allow race credit for this event.
THE CAUSE
The Robin Hood Relief Fund is helping New Yorkers by supporting the nonprofit organizations on the front lines. 100 percent of donations will provide emergency support through food, housing, job security and more.
COVID-19 SAFETY
Please follow these practices for running safely during the ongoing crisis and for how to wear a mask while running.
POLICIES
The standard no-refunds, no-deferrals, no-transfers policy applies, unless you are signed up for the NYCRUNS Membership Program. We are not shipping overseas for this event, so please select the Turnstile Jumper option if you are abroad and want to participate.
As per the Protecting Young Victims from Sexual Abuse and Safe Sport Authorization Act of 2017, any adult interacting with amateur athletes, defined as a child or minor under the age of 18 that participates in youth running programs or any events hosted or operated by NYCRUNS, has a duty to report a reasonable suspicion of sexual misconduct such as child sex abuse, non-consensual sexual conduct, sexual harassment or intimate relationships involving an imbalance of power within a 24- hour period to local law enforcement by calling the New York State Central Register at 800-635-1522. Participants found to be listed on a sex offender registry, convicted of a sex crime, or caught having, creating, or distributing child pornography will be immediately barred from all NYCRUNS events.
Race Contact