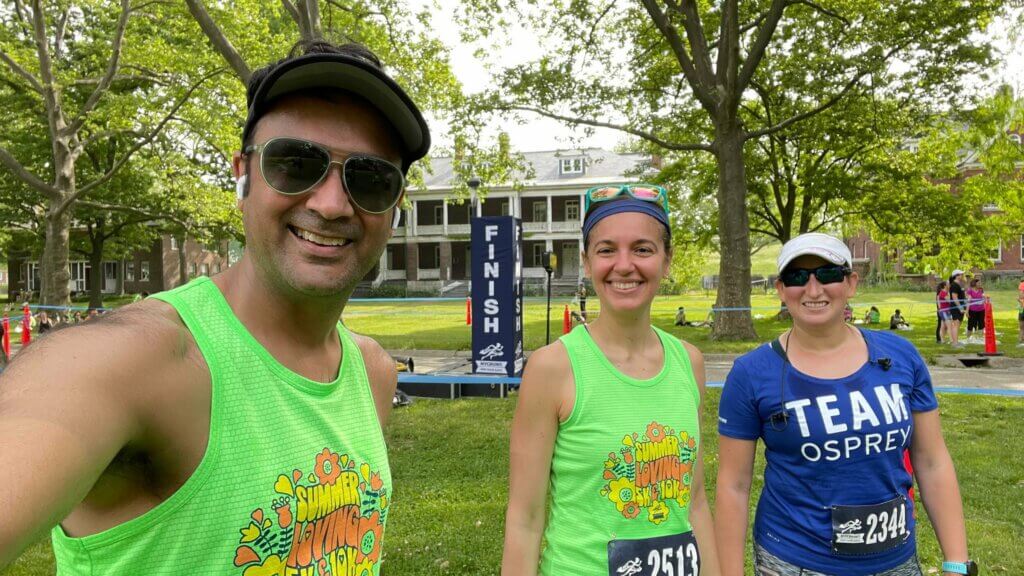 Without a doubt, running clubs run this city- we know it, they know it. We wouldn't be able to have our races without them! That is why we wanted to give them the opportunity to introduce themselves. This week we are continuing the NYCRUNS Club Spotlight series by highlighting Team Osprey. The NYCRUNS Club Spotlight series will take a look at the diverse running clubs of New York City and celebrate the unique ways that they contribute to fitness and community across all five boroughs.
Jigar Thakkar was born in India and currently lives in Manhattan. 
How did you get involved with Team Osprey?
A small group of us used to see each other in races and in training camps, and became friends. Our team is led by our enthusiastic captain Julia who is a big fan of Ospreys hydration pack, and that is how we got called Team Osprey. Over time, the flock grew and flew together. While our flock loves Ospreys, we are very open minded about having runners with their preferred choice of hydration packs! My role is multifaceted in the group. I'm usually the designated photographer, race scout, as well as a dependable water station for Ospreys doing long run training around downtown Manhattan.
What are you about?
The mission of the club is to support, empower and grow one another while having a lot of fun along the way. We are a very diverse group of runners of various age groups and ethnicities, from several parts of the world.
Where does your club run? Which is your favorite running route?
Our club does most of the runs in Central Park, but frequently we go on "runsploration" around all the 5 boroughs of New York. Ospreys have been spotted exploring routes and running races all across the world.
How does your club give back to the community?
Last year during the pandemic, several Ospreys financially supported the running organizations who were going through tough times due to race cancellations. We've also volunteered for several projects related to running and during races. For instance, I've volunteered to help pave paths in Ocean Breeze Park in Staten Island.
We know it's a tough choice but… which NYCRUNS race is your favorite?
That is a tough one, I have done nearly 3 dozen NYCRUNS races. I love several of them for their interesting routes, great locations, and awesome swag and medals. Several memories and PRs are associated with these races, but if I had to pick one – I'd say the Governor's Island NYCRUNS Summer Loving 5K would be my favorite. I loved the little walk to the ferry from my home, then the ferry ride to the island, the wonderful race with views of the Statue of Liberty, and ending with the awesome NYCRUNS goody bags. It's a great race and beautifully organized.
Tell us about your group traditions! What is your favorite post-race tradition?
We have a tradition of exploring various neighborhoods of all boroughs, and we've been on midnight runs together on New Year's Eve. Often, we've organized carb-loading pastathons the evening before big races. The favorite post-race tradition starts just before crossing the finish line, you'll see the proud Ospreys sprint past the finish line with the classic Osprey wingspan flapping.
Want to stay informed about Team Osprey?
Please check out our website for events, members, and photos. You can also learn more via our email, Strava group, and Instagram. Want to join the Slack Group? Ask for the link!
If you are interested in being featured in the NYCRUNS Club Spotlight Series, please send us an email at theteam@nycruns.com