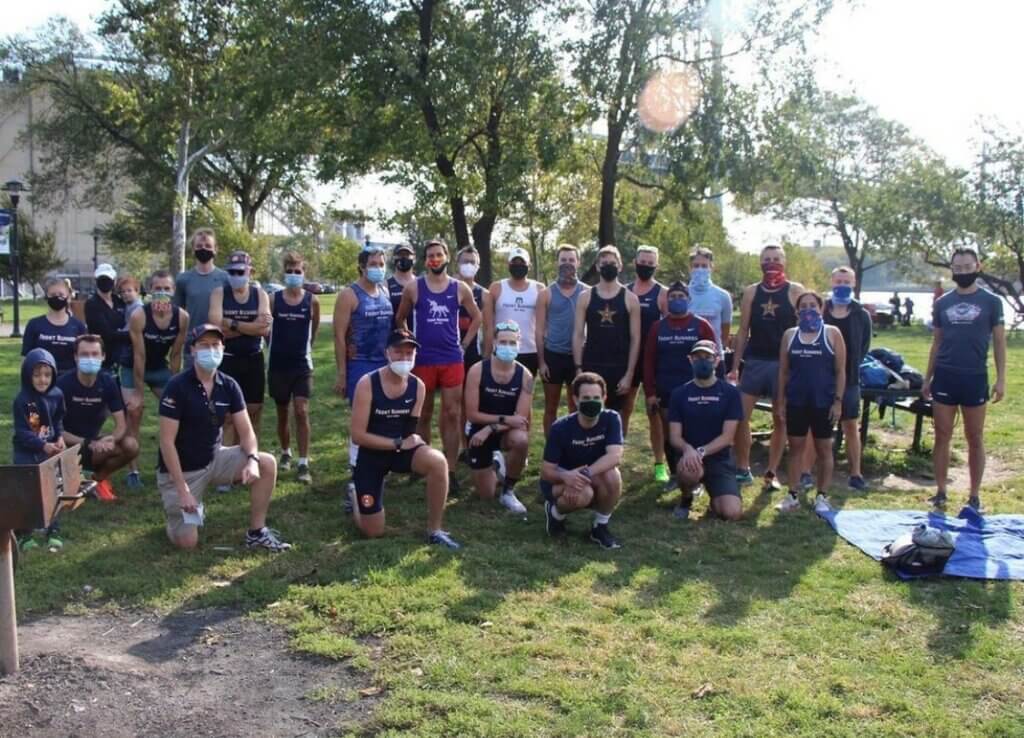 Without a doubt, running clubs run this city- we know it, they know it. We wouldn't be able to have our races without them! That is why we wanted to give them the opportunity to introduce themselves. This week we are continuing the NYCRUNS Club Spotlight series by highlighting Front Runners New York. The NYCRUNS Club Spotlight series will take a look at the diverse running clubs of New York City and celebrate the unique ways that they contribute to fitness and community across all five boroughs.
Tell us about yourself!
My name is Gilbert Gaona (he/him/his), and I am originally from a small town called Atascadero, California. I often claim San Diego though because I went to school at San Diego State. I currently live in the best neighborhood in the city, Harlem!
How did you get involved with Front Runners New York?
In 2007, while living in San Diego, I joined Front Runners San Diego as a place to meet other LGBTQ athletes. When I moved to NYC in 2012, I had no friends and figured it made sense to join a sister club. The running scene in New York is like no other, and FRNY is actually the largest and most active out of the over 100 Front Runner clubs around the world. I am currently the President of Front Runners New York, but have served in many committees and twice as the Men's Vice President.
What is FRNY about?
Front Runners New York is New York City's LGBT running club. The club was founded in 1979 and has grown to over 700 members annually. FRNY's mission is to provide encouragement and support to LGBT adults and their supporters who are interested in running and running related activities. FRNY has created a social running community focused on health and fitness that is welcoming to all New Yorkers. FRNY offers a robust, inclusive membership experience. We are a club of sprinters up to Ultra-Marathoners, and we even have a few people who I don't think actually run, they just come to our social events.
Personally, FRNY has become my family and I want others to feel the same way. I believe that volunteering and participation are the cornerstones of this club, so I want to be welcoming to all who are interested in FRNY, and ensure they feel as welcome as I feel here.
Where does your club run? Which is your favorite running route?
We run all over the five boroughs and surrounding areas. Our weekly schedule is as follows:
Monday: Evening swim on the Upper East Side
Tuesday: AM and PM speed workouts in Central Park, as well as a PM fun run in Prospect Park.
Wednesday: PM Fun Run in Central Park.
Thursday: PM Speed workout in Central Park/Riverbank State Park/East River Track or Prospect Park.
Saturday: AM Fun Run in Central Park.
Sunday: AM Long Runs and a cycling group at different locations around the five boroughs and the surrounding areas.
Personally, my favorite run has to be the Ted Corbitt Loop in Central Park. There is just something magical about the park and always seeing a familiar face to wave at.
In what ways does FRNY give back to the community?
Every summer during Pride Month, we host the FRNY LGBT Pride Run® and the Brooklyn LGBTQIA+ Pride 5K, where we partner with local LGBT organizations and donate about $25,000 between the two runs. This year we have started volunteering at the organization, chosen by our membership, to be involved with their cause. During the year, we participate in shoe drives, "Medal for Mettle", and encourage our members to be involved in social justice causes around the city.
We know it's a tough choice but…which NYCRUNS race is your favorite?
I have to admit, I can't wait to run the Ice Cream Social 10K. Obviously the 10K over the 5K so I can eat more ice cream and not feel bad about it 🙂
Tell us about your group traditions! What is your personal favorite post-race tradition?
One of my favorite FRNY traditions is that we build a tunnel for our final runner! It is important to celebrate every person, but we want that love to be felt most by the last runner in. Personally, one of my post-race traditions is brunching! I mean, who doesn't love to brunch?
How can people stay informed about what your running club is up to?
You can also follow us on Instagram at @frontrunnersny, Facebook at Front Runners New York, our website at FRNY.org, and most importantly you can stay informed by running with us!!!
If you are interested in being featured in the NYCRUNS Club Spotlight Series, please send us an email at theteam@nycruns.com