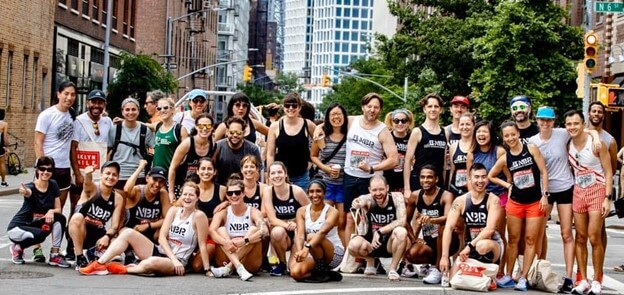 Without a doubt, running clubs run this city- we know it, they know it. We wouldn't be able to have our races without them! That is why we wanted to give them the opportunity to introduce themselves. This week we are kicking off the NYCRUNS Club Spotlight series by highlighting North Brooklyn Runners. The NYCRUNS Club Spotlight series will take a look at the diverse running clubs of New York City and celebrate the unique ways that they contribute to fitness and community across all five boroughs.
Becca Ades is the President of North Brooklyn Runners. She is from Burlington, Vermont and has lived in New York City since 2006. She currently resides in Brooklyn.
How did you get involved with North Brooklyn Runners?
I got involved with NBR when it first formed in 2009.  I was looking for a fun, community-based running club that offered competitive training opportunities.
What is your club about?
North Brooklyn Runners is about providing free pathways to running for our community. We offer multiple runs a day for runners of all experiences and abilities. Our members range from absolute beginners to Olympic trials competitors.  Above all, we believe in giving back to the communities we run through and creating inclusive spaces for all.
Where does your club run? Which is your favorite running route?
Our club hosts runs around North Brooklyn and Prospect Park. On the weekends our long runs take us all over Brooklyn and Manhattan…it is really just about how far you want to go!
My personal favorite running route is a loop of the Manhattan and Williamsburg bridges.  The views are spectacular—especially at night.
How does NBR give back to the community?
Our running club has partnerships of the month where we promote local businesses and feature them on our team Instagram.  We also have a community outreach coordinator who works to provide local volunteer opportunities to our members ranging from clothing drives to supporting local mutual aids to organizing events that raise money for local charities and nonprofit organizations. Most recently, we have been hosting time trials and have been encouraging members to donate to non-profits during important community-based work in lieu of race registration.
We know it's hard to choose but… which NYCRUNS race is your favorite?
My favorite NYCRUNS race is the Spring Fling 10k—but I must admit that I'm partial as it celebrates my Saint Patrick's Day birthday.
Tell us your group traditions! What is your personal favorite post-race tradition?
One of our group traditions is the NBR Crownimal.  This is an award bestowed upon members who complete 4 of our group runs consecutively—the Night Owl, Tigerwolves, Doves, and Hellkatz (many of our group runs have names!).  It is celebrated by donuts at McCarren Track following the Hellkatz 6:30 am Thursday Workout.  It's picked up quite a following!
In terms of my favorite post-race tradition, I enjoy taking a nap after races.  They really wipe me out.
How can we keep up with what NBR is up to?
The best way to stay informed about our running club is by following us on social media @northbrooklynrunners.  If you are interested in joining our group runs, sign up for our Google group on Northbrooklynrunners.org.
If you are interested in being featured on our Club Spotlight series, please email us at theteam@nycruns.com