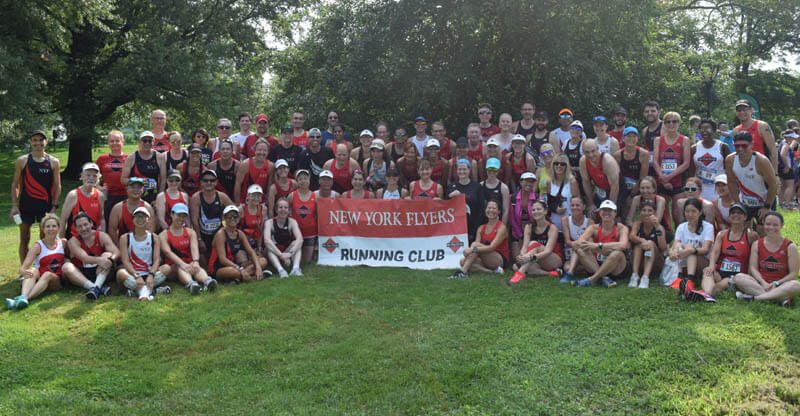 Without a doubt, running clubs run this city- we know it, they know it. We wouldn't be able to have our races without them! That is why we wanted to give them the opportunity to introduce themselves. This week we are highlighting the New York Flyers. The NYCRUNS Club Spotlight series will represent the diverse running clubs of New York City and celebrate the unique ways that they contribute to fitness and community across all five boroughs.
Tell us about yourself!
My name is Teresa and I am originally from Spain, although I have been living in New York since 2005. I live on the Upper West Side, and I can even see the dreaded Harlem Hill from my living room.
How did you get involved with NY Flyers?
I was not a runner growing up, although since I moved to the US in 1999 I was always surrounded by runners. As most of my friends ran, I gave running a chance… twice, but I got discouraged when I got injured and stopped running altogether. Finally, in the Fall of 2018 I decided that the third time would be a charm. As I am quite a social person, I decided to find the inspiration I needed from a running club. My husband had been a member of the Flyers for several years, joining the Flyers mostly for their supported long training runs and suggested that I join the Flyers. My first contact with the Flyers was a group volunteer cleanup in Central Park. I arrived there with my husband's Flyers hat not knowing anyone. Between raking leaves and eating cookies, I realized I had found not only a running club, but new friends and a support system to keep me going. Three years later, I am still running, brunching, cheering and having fun with the Flyers. I don't hold any role with the Flyers, but I am a regular in many of the events that we organize.
What is your club about?
The New York Flyers was founded in 1989, with the goal of establishing a running club open to individuals of all athletic abilities and experience levels. We are one of the oldest and largest clubs in New York City, but take pride in our "small club feel." Members train together, cheer each other on at races, and socialize! We have competitive age-group runners, first-time runners, triathletes, and runners looking to maintain fitness or improve on a PR! We also have a walk-run for anyone who enjoys a more relaxed pace or is recovering from an injury. Whatever your running goals are, we have a place for you and you will find a group of like-minded people to welcome you and support your training plan. We have Flyers coming from the outer boroughs, Hudson River Valley, Connecticut, and as far as Philadelphia for some of our weekly training programs and long runs.
Where does your club run?
We hold weekly group runs in Central Park and Prospect Park. Additionally, we have organized long runs throughout the year to Randall's Island, Little Red Light House, Three Bridges and more. Many of our supported long runs are open to general public for a small fee, and a good number of people who participate in those decide to join the Flyers after running with us!
Which is your favorite running route?
A full loop of Central Park, beautiful in every season!
How does your club give back to the community?
The Flyers engage with the community throughout the year. Some of our community events are bi-annual Volunteer Clean Up in Central Park, Run Fund Raising for Central Kitchen, and a Book Club of select running books with guest authors (we just had Running on the Edge with guest author Matthew Futterman) and we are always eager to support our team members fundraising for worthy causes. Last year, we tragically lost one of our team members to COVID-19, and the team rallied to support a fundraiser in his name to benefit the Central Park Conservancy, where he had run so many miles. We also participate as a team in running events that support social justice.
We know it's a tough choice but… which NYCRUNS race is your favorite?
I love the Winter Classic 4M, but I have to thank NYCRUNS for getting me out of my regular running routes and discovering new places! This year I ran in Prospect Park for the first time with the Prospect Park 5K Benefiting CAMBA, ran under the Verrazzano Bridge for the NYCRUNS Verrazzano Half Marathon, and I went to Governors Island for the first time for the Summer Loving 5K. I cannot wait to keep discovering New York with NYCRUNS.
Tell us about your group traditions!
One of the Flyers favorite traditions are our Holiday Runs which are held once a month on whatever holiday is on the calendar. We meet up for a run in Central Park (all paces welcome and any distance), followed by a group breakfast at the Boathouse or nearby eatery. For the Lunar New Year it is usually a run followed by dim sum in Chinatown!
Once a month, runners training under our two training programs gather together for socializing with a post-run drink in places near Columbus Circle. And to show everyone what we look in "real" clothes, we also have a Holiday party in December, and a Flyers Gala in January/February, where we celebrate the team accomplishments and dance the night away in fancy clothes while we talk about races we have run, races we are running, and the latest PR.
What is your favorite post-race tradition?
We almost always gather for brunch after the races, exploring different eateries in whatever neighborhood the races take place. Some members of the team have also regularly organized group brunches in their apartments after the races.
How can people stay informed about what your running club is up to?
The Flyers website, Facebook and  Instagram are used to keep members and non-members informed.
If you are interested in being featured in our Club Spotlight series, please email us at theteam@nycruns.com