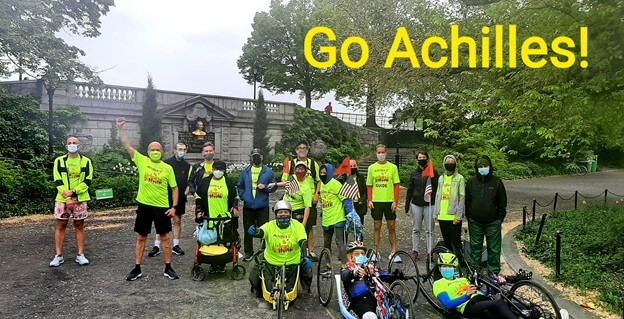 Without a doubt, running clubs run this city- we know it, they know it. We wouldn't be able to have our races without them! That is why we wanted to give them the opportunity to introduce themselves. This week we are continuing the NYCRUNS Club Spotlight series by highlighting Achilles. The NYCRUNS Club Spotlight series will take a look at the diverse running clubs of New York City and celebrate the unique ways that they contribute to fitness and community across all five boroughs.
Tell us about yourself!
My name is Abigail, but most folks call me Abbey. I grew up in North Carolina but Brooklyn has been home for the last seven years.
How did you get involved with Achilles?
I found Achilles through an acquaintance. They were training for a triathlon, and I was very intrigued because they were blind, like me. Turns out, they were training with Achilles, and I learned that all I had to do was show up to participate in a workout. It was a pretty low stakes kind of thing, and after attending one of the Saturday morning workouts in Central Park, I was hooked. Prior to that, I hadn't done much running, but the welcoming environment and people made running a lot more exciting to me. That was 2012, and I've been a member ever since. I've been acting as our Achilles club co-captain since 2016.
What is Achilles about?
Achilles' mission is to promote personal achievement through sport, primarily running, and to create opportunities for people with disabilities.
Where does your club run/walk/wheel? Which is your favorite route?
Achilles has three chapters in NYC: Queens, Manhattan and Brooklyn. The Manhattan chapter is probably the largest, and there are workouts in Central Park (90th and 5th Ave.) on Tuesday evenings and Saturday mornings. I'm also rather active with our Brooklyn chapter, as I live in Flatbush. I love having Prospect Park as my backyard, and often run the 3.4 mile loop, or do a figure 8.
In what ways does your club give back to the community?
Achilles is active in many areas of the running community in NYC, as well as with other community organizations. As a club co-captain, we network and collaborate with other running clubs. Since our athletes represent the disability community as a whole, Achilles is connected with many affinity groups and organizations that support those who are blind or low vision, have traumatic brain injuries, wheelchair users, those that are autistic, and any other identity along the disability spectrum. A lot of people also come to volunteer with Achilles through NYC Cares as a guide to athletes like me, and then eventually just become part of the family.
We know it's a tough choice but…which NYCRUNS race is your favorite?
In 2019 I ran the Newport Liberty Half Marathon. It was a gorgeous day and the first half I had trained for in a while. I have also run the Ice Cream Social 5k on Roosevelt Island in years past and enjoyed the energy and spirit of that race.
Do you have any group traditions? What is your favorite post-race tradition?
Probably the greatest tradition we have is cheering for one another. Our jerseys are a bright yellow neon that's pretty hard to miss, and "Go Achilles!" is featured on a lot of our apparel too. Regardless of someone's time or their performance, supporting each other for showing up and giving our all out on the road is what matters.
My favorite post-race tradition is brunch. There is nothing like a good meal and good company to celebrate a race.
How can people keep up with what Achilles is up to?
You can find Achilles at achillesinternational.org.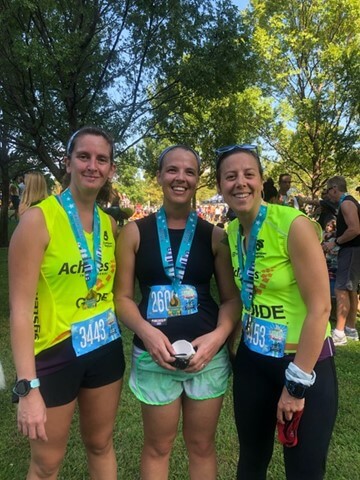 If you are interested in being featured in the NYCRUNS Club Spotlight Series, please send us an email at theteam@nycruns.com