Race Calendar
Running Of The Balls 5K & 10K
June 18, 2017
Start time: 5K: 8:30AM | 10K: 9:30AM
Firefighters Field, Roosevelt Island
Address: 405 Main St. New York, NY
---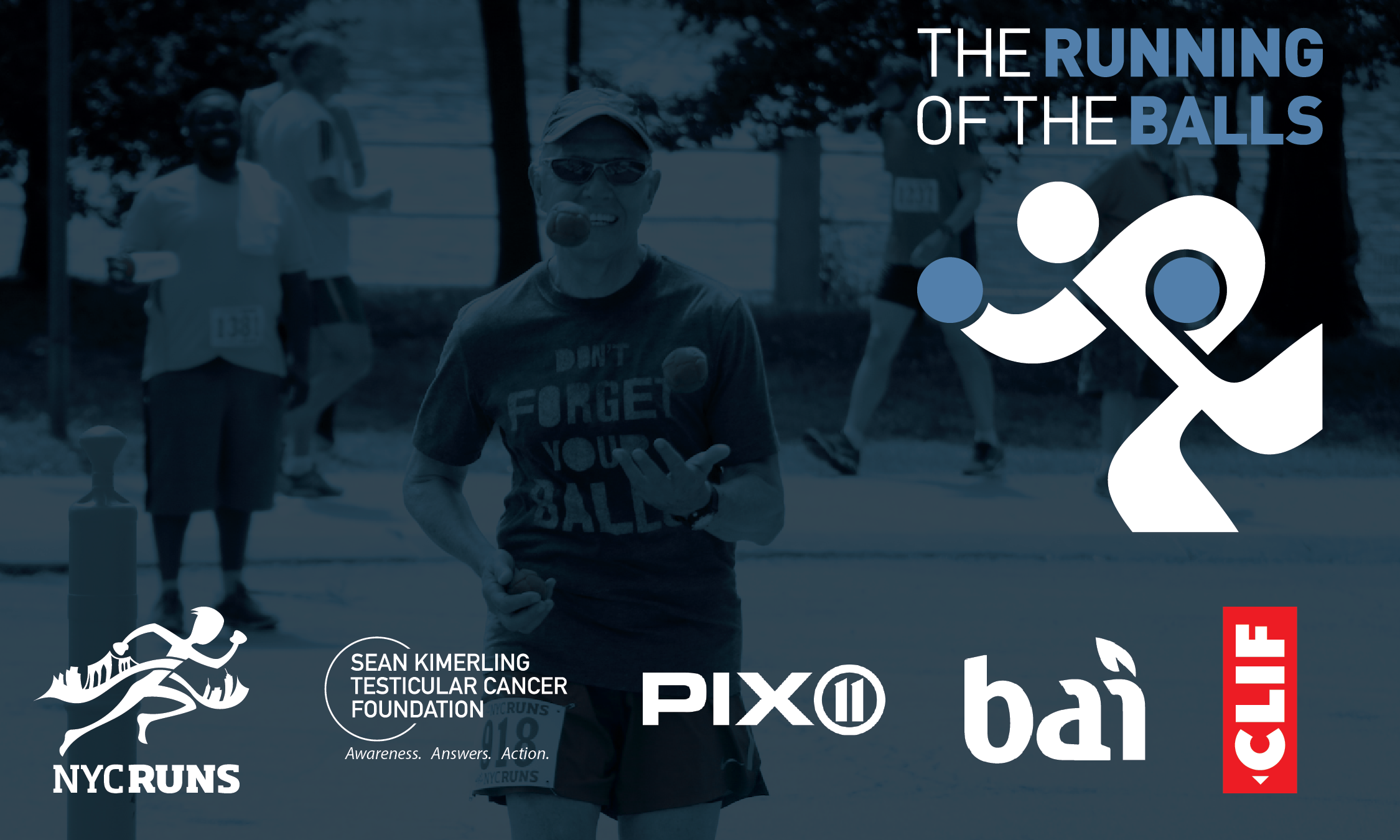 Celebrate Father's Day and help fight the most common cancer in young men. Join NYCRUNS & the Sean Kimerling Testicular Cancer Foundation on Roosevelt Island for the fourth annual Running of the Balls 5K & 10K.
---
ABOUT THE CAUSE
Every hour of every day one man in the U.S. is diagnosed with testicular cancer–let's do something about it!  Join us at the event and help raise funds via Crowdrise to support the Sean Kimerling Testicular Cancer Foundation's fight.
Go to Crowdrise  to sign up for fundraising, create a team when registering for the event or choose one of the existing teams. If you do not already have a Crowdrise account, one will be created for you automatically when you list a team.
---
COURSE
If you haven't raced at Roosevelt Island before, you're in for a treat. Fast, flat and with one of a kind views of Manhattan, Queens, and beyond: you're going to have a blast!
---
AMENITIES
Bag check and toilets will be provided.The giveaway for this race will be a great tech t-shirt (note: sizes are guaranteed – if we don't have your size at the race, email theteam@nycruns.com with the race name, your name, size and address and we'll reprint and ship your shirt to you). Water and Gatorade will be available on the course, and Clif Bar products, bagels, spreads, fresh fruit and more will make up the usual great NYCRUNS post race spread to greet you at the finish line. 
---
PACKET PICKUP
Race day packet pickup will be available near the start line beginning at 7:30 AM.
---
BIB MAILING
If registering on or before 5/26 you can choose to have your bib mailed to you for an additional fee of $15. You must choose this option when registering and the bib must be mailed to the address you enter at that time. Shirts will not be mailed; they will be available to pick up at the race. Shipping to domestic US addresses only.
---
COST
See chart below. NYCRUNS members receive a 10% discount, race deferral rights, and other perks. Race day registration (if available) is cash or credit, no checks please. Register early to make things easier for us and cheaper for you!
| | | |
| --- | --- | --- |
| | | |
| Through 5/20 | $30 | |
| Through 6/10 | $35 | |
| Until online registration closes | $40 | |
| Race day (if available) | $50 | |
---
ABOUT THE SEAN KIMERLING TESTICULAR CANCER FOUNDATION
The Sean Kimerling Testicular Cancer Foundation (SKTCF) is dedicated to raising Awareness of Testicular Cancer (TC) and the importance of early diagnosis and treatment, providing answers, and promoting action in the fight against TC.
The foundation was formed in 2003 in memory of Sean Kimerling, the Emmy Award-winning PIX11 sportscaster and pre-game announcer for the NY Mets. Sean died at the age of 37 from TC. Headquartered in New York City, SKTCF has strong ties to local sports teams and media. A registered 501(c)(3) public charity, SKTCF is nationally recognized as a key resource in the fight against TC. For more information, please visit www.seankimerling.org.
---
RESULTS,  AWARDS, FINISH LINE PHOTOS & VIDEO
Results will be emailed as they become available. There will be no printed results posted. The final results email sent a few days after the event will include instructions for claiming overall and age group awards.
Awards will be given to the top three male and female runners overall in each race. Age group awards in the 5K will be awarded to the top three in each the following age groups: 9 and under, 10-14, 15-19, 20-29, 30-39, 40-49, 50-59, 60-69 and 70 and over.  Age group awards in the 10K will be awarded to the top three in each of the following age groups: 19 and under, 20-29, 30-39, 40-49, 50-59, 60-69 and 70 and over.
Our awards policies are available here.
Finish line photos and video will also be available on the results page. These may not be published for several days.
---
VOLUNTEER
Want to race this one for free? Volunteer at any of these upcoming events and rack up as much credit as you can. Or in lieu of credit for yourself, you can have us donate $25 per shift to a cause partner of your choice. What's this all about, anyway? Learn more about the volunteer program here.
---
DIRECTIONS
Take the F train or Tram to Roosevelt Island.  All pre- and post-race activities are on Firefighters Field, a short walk from public transit, close to the start and finish.
Please check MTA Trip Planner for up to date and detailed mass transit directions and Google Maps for driving directions. Parking is limited at all of our events, we strongly encourage you to use mass transit. If you do choose to drive, please park in the garage where you exit the bridge, roughly half a mile north of Firefighters Field. There is no available parking near Firefighter's Field.
---
POLICIES
The standard no-refunds, no-deferrals, no-transfers policy applies, unless you are signed up for the NYCRUNS Membership Program. NYCRUNS members receive a 10% discount, race deferral rights, and other perks. Strollers or dogs are not allowed in NYCRUNS races and you may be disqualified if earbuds or headphones hinder your awareness. You must remain on pace to finish within the time limit in order to receive course support and an official finish time. Please familiarize yourself with our complete policies and rules of competition here.
---