Race Calendar
NYCRUNS Frozen Penguin 5K
March 12, 2017
Start time: 9:00AM
Riverside Park
Address: 108th St and Riverside Drive New York, NY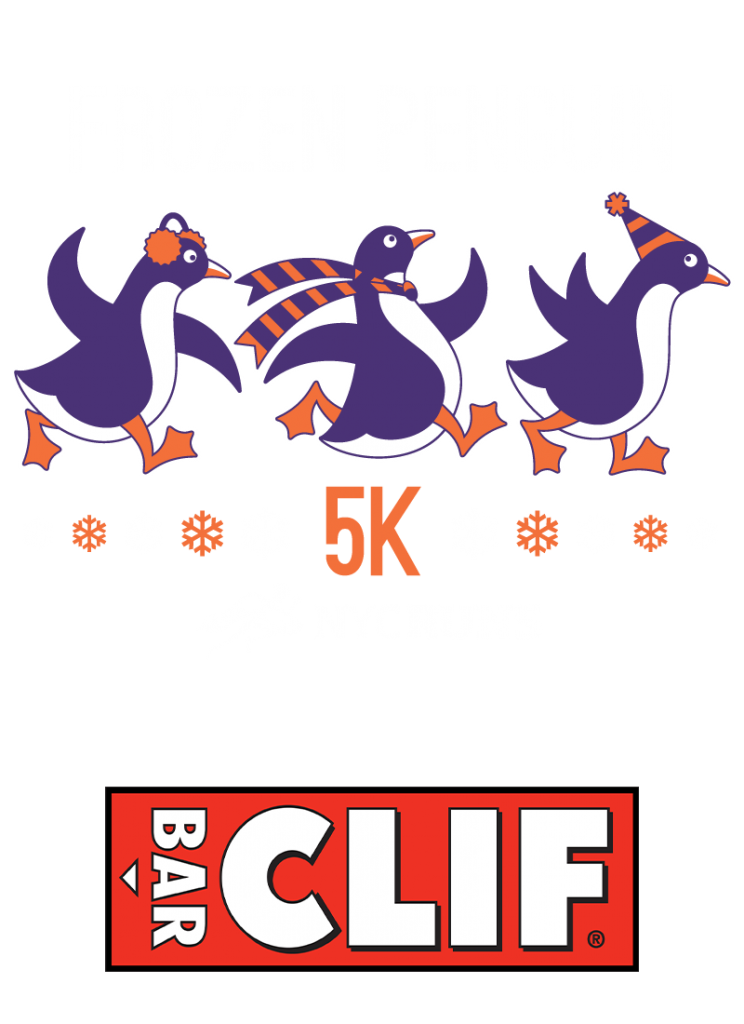 ---
Haven't recovered yet from your fall marathon and need an excuse to hop off the couch?  Jump start your training with the Frozen Penguin 5K where the weather will most likely be something that only penguins would love.
---
COURSE
This race will start and finish near 108th Street inside Riverside Park. You will head north to 116th Street before turning back down the footpath along the eastern edge of the park. You will then follow the path down to about 96th Street before turning north again and winding through the network of paths around the tennis courts and Dinosaur Park. The course is challenging, but offers plenty of downhills to make up for the uphills! Plus, the course offers terrific views of the Hudson River and Palisades Park across the way.
---
AMENITIES
Bag check and toilets will be provided.The giveaway for this race will be a great tech t-shirt (note: sizes are unisex and not guaranteed). Water and Gatorade will be available on the course, and Clif Bar products, bagels, spreads, fresh fruit and more will make up the usual great NYCRUNS post race spread to greet you at the finish line. Hot cocoa may be available should the weather call for it.
---
PACKET PICKUP
Please note there will be no pre-race packet pickup for this event. Race day packet pickup will be available near the start line beginning at 8:00 AM.
---
BIB MAILING
Bib mailing is available for this race for participants registered by 2/17. You must choose this option when registering and the bib must be mailed to the address you choose then. Shipping to domestic US addresses only.  The cost is $15.00. Note: Shirts will not be mailed. They will be available for pickup before or after the race.
---
COST
See chart below. NYCRUNS members receive a 10% discount, race deferral rights, and other perks. Race day registration (if available) is cash or credit, no checks please. Register early to make things easier for us and cheaper for you!
| | | |
| --- | --- | --- |
| | | |
| Through 2/11 | $35 | |
| Through 3/5 | $40 | |
| Until online registration closes | $50 | |
| Race day (if available) | $60 | |
---
AWARDS
Awards will be given to the top three male and female runners overall. Age group awards will be awarded to the top three male and female runners in each of the following age groups: 9 and under, 10-14, 15-19, 20-29, 30-39, 40-49, 50-59, 60-69 and 70 and over. Our awards policies are available here.
---
VOLUNTEER
Not ready to race?  Volunteer at this event and earn $50 in NYCRUNS race credit that never expires! Want to race this one for free? Volunteer at any of these upcoming events! Or in lieu of credit for yourself, you can have us donate $25 to a cause partner of your choice. What's this all about, anyway? Learn more about the volunteer program here.
---
DIRECTIONS
Take the 1 train to 103rd or 110th St. Please check MTA Trip Planner for up to date and detailed mass transit directions and Google Maps for driving directions. Parking is limited at all of our events, we strongly encourage you to use mass transit.
---
POLICIES
The standard no-refunds, no-deferrals, no-transfers policy applies, unless you are signed up for the NYCRUNS Membership Program. NYCRUNS members receive a 10% discount, race deferral rights, and other perks. Strollers or dogs are not allowed in NYCRUNS races and you may be disqualified if earbuds or headphones hinder your awareness. You must remain on pace to finish within the time limit in order to receive course support and an official finish time. Please familiarize yourself with our complete policies and rules of competition here.
---