Race Calendar
Dime McCarren 5K
May 06, 2017
Start time: 10:00 AM
Greenpoint Beacon Center
Address: 424 Leonard St Brooklyn, NY
---
***Online Registration Is Closed. There Are Extremely Limited Race Day Registration Entries Available***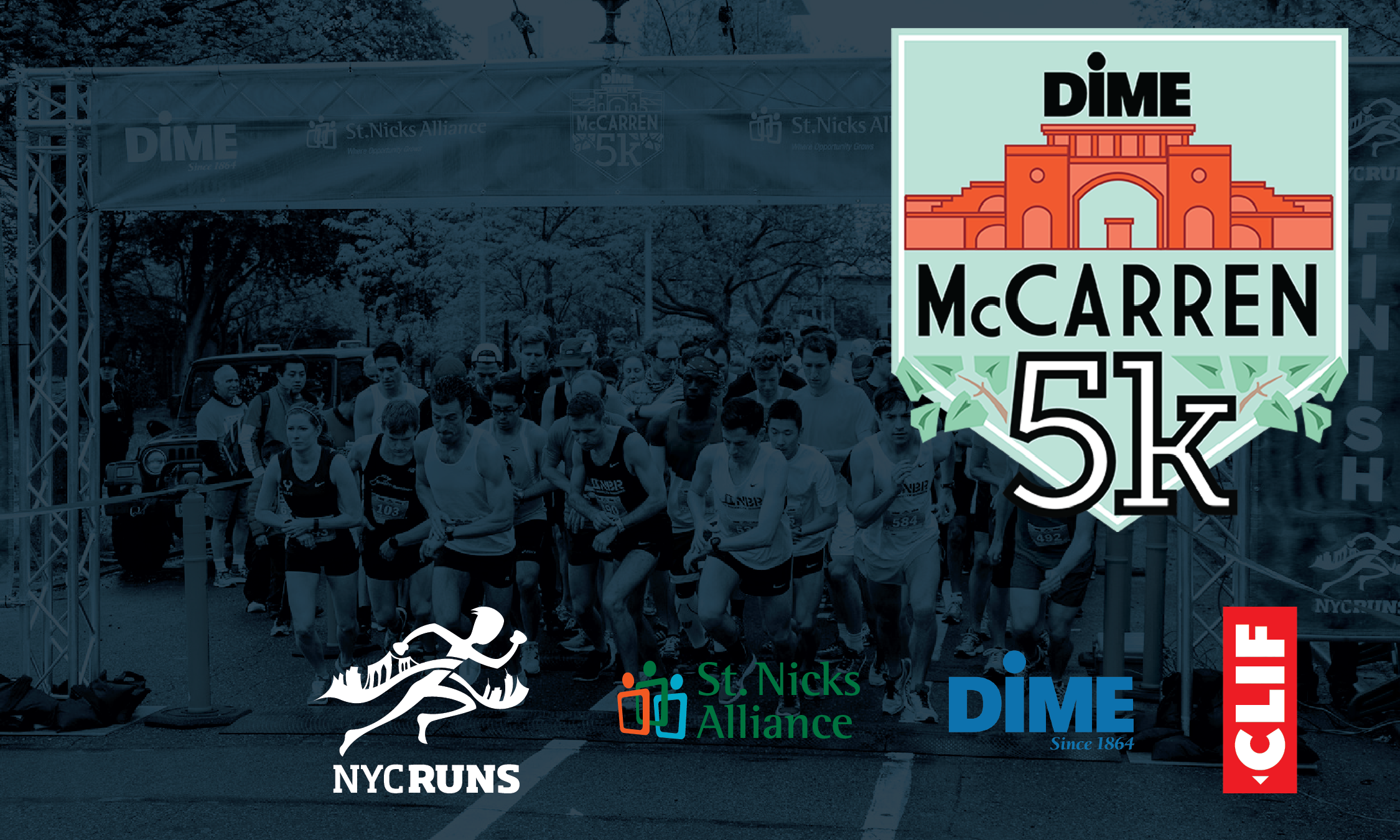 This NYCRUNS-produced event benefiting St. Nicks Alliance hit  the streets running in 2012 and quickly became one of the most popular road races in Brooklyn. This year we welcome back Dime as a title sponsor and expect the race to be bigger and better than ever!
Please note that you may register to either run or walk;
walkers will not be timed. See pricing schedule below for details. All amenities are the same for all participants. This page is for individual registration only; group/family registration for the walk is available at
m5k.org
.
---
COURSE   
The one loop 3.1 mile course will take you on a tour of North Brooklyn's hottest neighborhoods before returning you to the finish for a post-race vittles and awards.
---
AMENITIES   
A great techie shirt will be the giveaway for this race and Clif Bar products plus the usual great NYCRUNS post-race spread will greet you at the finish line. Bag check and toilets will be provided. Water will be available on the course.
---
PACKET PICKUP   
Pre-race packet pickup will take place at Dime Community Bank in Williamsburg the day before the race:
Friday, May 5, 4pm-8pm
Dime Community Bank
209 Havemeyer Street, Brooklyn, NY 11211
Race-day packet pickup will be available at the start line beginning at 8:30 AM.  We strongly encourage you to pick up your race materials in advance of race day to avoid lines.
---
BIB MAILING   
Bib mailing is available for this race for participants registered by 4/14. You must choose this option when registering and the bib must be mailed to the address you choose then. Shipping to domestic US addresses only.  The cost is $15.00. Note: Shirts will not be mailed. They will be available for pickup before or after the race.
---
COST   
See chart below. Under 18? Save $20 on the run, until race day. Race day registration (if available) will be near the start/finish area and is cash or credit, no checks please.
Division
Run (timed)
Adult (18+)
Run (timed)
Youth (under 18)
Walk (untimed)
All ages
Through 4/9
$35
 $15
 $25
Until online registration closes
$40
$20
 $25
Race day (if available)
$50
$50
 $25
---
AWARDS   
Awards will be given to the top three male and female runners overall. Age group awards will be awarded to the top three male and female runners in each of the following age groups: 9 and under, 10-14, 15-19, 20-29, 30-39, 40-49, 50-59, 60-69 and 70 and over. Our awards policies are available here.
---
VOLUNTEER   
Volunteer at any of these upcoming events and earn $50 in NYCRUNS race credit that never expires! Or in lieu of credit for yourself, you can have us donate $25 to a cause partner of your choice– including St. Nicks Alliance! What's this all about, anyway? Learn more about the volunteer program here.
---

ABOUT ST. NICKS ALLIANCE
St. Nicks Alliance is a nonprofit, non-sectarian community development organization celebrating 40 years of community development in North Brooklyn. St. Nicks Alliance seeks to transform lives of low and moderate income people through employment, education, housing, and health care. We do this by delivering impactful services with measurable outcomes to children, adults, and the elderly. As a civic anchor we carry out this mission within the context of building a sustainable community for all people through the arts, environmental advocacy, and urban planning. 
To learn more about St. Nicks Alliance and SSA, visit us at www.stnicksalliance.org and www.schoolsettlement.org   Your support makes the summer camp experience enriching, fun, and memorable for all our young people! 100% of monies raised will be used for direct program expenses to support Summer Camps.
---
DIRECTIONS   
Take the L  to Bedford Avenue or the G to Nassau St. Please check MTA Trip Planner for up to date and detailed mass transit directions and Google Maps for driving directions. Parking is limited at all of our events, we strongly encourage you to use mass transit.
---
POLICIES   
The standard no-refunds, no-deferrals, no-transfers policy applies, unless you are signed up for the NYCRUNS Membership Program. NYCRUNS members receive a 10% discount, race deferral rights, and other perks. Strollers or dogs are not allowed in NYCRUNS races and you may be disqualified if earbuds or headphones hinder your awareness. You must remain on pace to finish within the time limit in order to receive course support and an official finish time. Please familiarize yourself with our complete policies and rules of competition here.
---