Race Calendar
This Page Refers To Last Year's Race, It Has Not Been Updated For The Next Race Yet
Brooklyn Pride LGBT 5K Run
June 08, 2013
Start time: 10:00 AM
Bartel Prichard Square
Address: Prospect Park Brooklyn, NY
AT RACE CAP.  REGISTRATION CLOSED DUE TO OVERWHELMING RESPONSE. THERE WILL BE NO RACE DAY REGISTRATION.
Come show Brooklyn your pride and support in the 16th Annual Brooklyn Pride LGBT 5K Run.  The race will be along a 5 kilometer route through beautiful and historic Prospect Park.  A portion of the revenue generated will go to the Safe Schools Campaign at GLOBE.  GLOBE is intergenerational LGBTQ Justice Project of Make the Road New York this campaign specifically focuses on LGBTQ youth in high schools.
This race will now be professionally timed and your results will be posted online.
Every participant will receive a souvenir T-shirt and each finisher will receive a finisher's medal.  We will also have prizes for the first place male and female runners.  We are working to make this the best race in our 16 year history.  Come out and show us your pride!
Course Info
This is a beautiful 5 kilometer run (just over 3 miles) over the rolling hills of Prospect Park,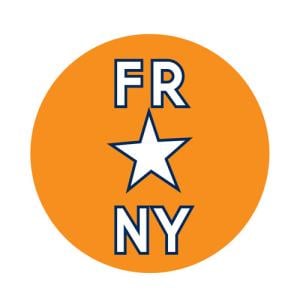 Brooklyn. The registration and meeting point will be located inside the park, just beyond the entrance at Bartel-Pritchard Square on the corner of Prospect Park West and 15th Street.  The nearest subway stop is the 15th Street-Prospect Park stop on the F/G.
The race will begin approximately ¼ mile inside the park entrance. Runners will follow the park's main loop drive, completing a 5 kilometer lap of the park, to finish near the starting point. You'll run the course's only significant uphill in the first mile; after that, it's flat/gently rolling hills, with a long, fast downhill between miles 2 and 3. Water will be available at the half-way mark and at the finish.
This race is short and flat enough to be ideal even for first-time racers; more experienced competitors will appreciate the opportunity for fast times.  Many runners have PRed (achieved a personal record) in this race, and everyone will have fun knowing they have supported and helped the LGBT community.
Directions by Subway 
Take the F train to the 15th Street-Prospect Park stop and walk east to the start (Note: F service from Manhattan occasional has track work. Please check the MTA website for details at mta.info.)
Fees
$30.00 until June 5th.
$40.00 from June 6th – race day
We will accept race day registrations on Saturday morning for a registration fee of $40.
Number Pickup & Registration
Entrants may pick up their race packet prior to the race day (times and location will be emailed to you prior to race day) or on race day, June 8th from 8:00 – 9:30 AM at the Bartel-Prichard Square area in Prospect Park.  Additional times and pick-up locations will be made available shortly.
Please stay tuned for special events throughout the training season.
Come join the other festivities during Brooklyn Pride please visit our website.   For questions applicants should contact: priderun@brooklynpride.org
Front Runners New York is co-sponsoring this race with Brooklyn Pride. FRNY is a LGBT running club with organized long runs, speed training, mufti-sport, swim workouts, spin classes, bike rides, socials and much, much more. Our members range from 18-84. FRNY is a supportive community for athletes of all ability levels and interest. Everyone is welcome to join our fun run on Wednesday night and Saturday morning in Manhattan and Tuesday night fun run in Brooklyn. To find out more about FRNY visit http://www.frny.org