THE RACE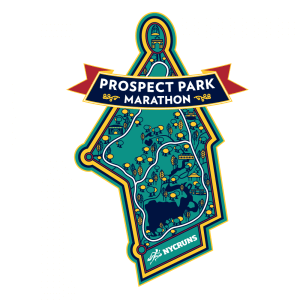 The 10th annual NYCRUNS Brooklyn Marathon & Half Marathon is scheduled for October 17th and we're expecting 10,000 runners this year.  However, not that long ago, this race was the humble NYCRUNS Brooklyn Marathon held entirely in Prospect Park for a few hundred hardy souls.
Since many of us had our spring marathons cancelled, here is an easy way to put that training to work, run a USATF certified course (though it won't be a BQ), earn some cool NYCRUNS swag, and help keep the lights on at your favorite local racing company!
We'll collect your results (ideally via STRAVA) and publish them on NYCRUNS.
This race counts toward the NYCRUNS Triboro Challenge. It must be completed before 10/10.
A VIRTUAL RACE?
Virtual races have been around for a few years at least and come in all shapes and sizes. Largely though, they are designed so that you can do the race you want when you want. Once you have completed it (or if you want to try 10 times, that's fine too), you send us the results and we publish them like any other NYCRUNS race. Just remember, these are meant to be a way to have fun and the most important thing is that you Win Your Race!
Once you register you'll receive further instructions on how to send us results. If you have any questions, just email theteam@nycruns.com
THE AMENITIES
NYCRUNS will send you bibs and medals upon registration.
THE COURSE
You can run any course you want, but we recommend the circa 2017 Prospect Park course if you can make it to Prospect Park. That course comprises 6 full loops and 3 lower loops of the park starting and finishing on Center Drive. In order, you do two full loops (crossing the start 2x), 6 full loops (staying off Center Drive) and then one last lower loop. See the USATF map for details on exactly where to start and finish. Feel free to ask us any questions!
One note on measuring with GPS - it's a bit inaccurate. If you run the prescribed course, it will probably come up wrong. If you run any non-certified course, you should probably go closer to 26.6 miles to be sure you get your distance.
Note: Due to shipping restrictions, we cannot ship outside of the United States.
THE TRIBORO CHALLENGE
You like your bling and you want everyone to know how hardcore you are? Then run either the NYCRUNS Brooklyn Marathon or Brooklyn Half Marathon, the NYCRUNS Queens Half Marathon, and either the NYCRUNS Central Park Half Marathon or the  NYCRUNS Big Apple Half Marathon and in addition to the great medals we give out for each race, receive an additional medal not to be believed!
COVID-19 SAFETY
In addition to the precautions recommended by the NYC DOH, please follow these practices for running safely during the ongoing crisis.
COST
The cost of this virtual race is $75.00. NYCRUNS members receive a 15% discount, race deferral rights, and other perks.
POLICIES
The standard no-refunds, no-deferrals, no-transfers policy applies, unless you are signed up for the NYCRUNS Membership Program.
As per the Protecting Young Victims from Sexual Abuse and Safe Sport Authorization Act of 2017, any adult interacting with amateur athletes, defined as a child or minor under the age of 18 that participates in youth running programs or any events hosted or operated by NYCRUNS, has a duty to report a reasonable suspicion of sexual misconduct such as child sex abuse, non-consensual sexual conduct, sexual harassment or intimate relationships involving an imbalance of power within a 24- hour period to local law enforcement by calling the New York State Central Register at 800-635-1522. Participants found to be listed on a sex offender registry, convicted of a sex crime, or caught having, creating, or distributing child pornography will be immediately barred from all NYCRUNS events.
Race Contact