THE RACE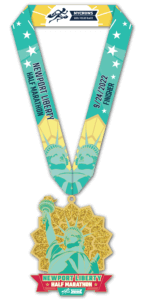 Starting and finishing in downtown Newport, the course will take you on a tour of historic Jersey City and will feature world- class views of the Statue of Liberty, Ellis Island, the Verrazano-Narrows Bridge and the stunning Manhattan Skyline.
After PRing on the fast, flat course, plan for an epic post-race celebration at Newport Green with plenty of refreshments, music and more!
THE COURSE
The race starts and finishes at Newport Green Park hard by the Hudson River in Jersey City,  visits Liberty State park, and adds in a tour of Jersey City's more historic neighborhoods. Fast, flat, and of course - USATF certified. Of course we will have:
Pacers provided by the Marlboro Running Club for the following times: 1:25, 1:30, 1:45, 2:00, 2:15, 2:30, 2:45, and 3:00.The Marlboro Running Club is based out of Marlboro township in Central New Jersey. There are currently over 280 members. The Marlboro Running club is for runners on all levels to chat, learn, share, motivate and RUN. We even have supervised group runs for kid.
COVID-19 GUIDELINES
Please be aware that due to the ongoing COVID-19 pandemic, all aspects of this race are extremely subject to change. The following COVID protocols are planned for this event. Prior to the race you will receive more information if changes or additions are necessary.
At this time, there is no vaccination requirement for this race. This may change at any time. We encourage all athletes to get vaccinated unless they have a valid reason not to.
You may not attend the event if you have experienced symptoms of COVID-19 or tested positive in the fourteen (14) days prior to the event.
If you test positive for COVID-19 within the fourteen days following the event, you must email

[email protected]

so that we may notify staff and participants as necessary.
In order to manage crowding, spectators are discouraged at the race, particularly at the start and finish. NYCRUNS reserves the right to ask spectators to leave the race site.
TRAINING (No Longer Available)
The Official Newport Liberty Half Marathon Training Program will help you Win Your Race! This 12-week customized program is based on your running history, racing goals, and schedule.  Lose the one-size-fits-all PDF's and let us help you get to the starting line healthy and ready to crush it.
The program is fully automated and will kick off on the fourth of July.
Program features include:
Customized training program that will incorporate various types of training including intervals, hills, tempo, and long runs as well as easy runs and days off.
Goals and program content that update based on your ongoing training journey.
Ability to log your miles manually or via MapMyRun, Garmin Connect, and Strava (not officially supported)
Other training content including cross training, strength training, and nutritional guidance
Training Program: $50
THE AMENITIES
Bag check will be provided. If you plan on checking a bag, you must use the single clear bag provided by NYCRUNS. You may not put another full bag/backpack/briefcase inside the clear bag. All items must fit inside the clear bag. NYCRUNS reserves the right to search your bag at any time.
Toilets will be provided and cleaned throughout the event.
Water and Gatorade will be available on the course, and bagels, spreads, fresh fruit and more will make up the usual great NYCRUNS post race spread to replenish you at the finish line.
The giveaway for this race will be a tech shirt*,  and a medal.  Photos will be available within a week of the race.
* In order to cut down on waste, we try not to overorder and sizes are not guaranteed. We recommend you register as early as possible to ensure you get your size mailed to you.
BIB & SHIRT DISTRIBUTION
There will be no pre-race bib pickup for the in person event. If you register up to ten days before the event using a domestic address, your bib will be mailed to you. If you register after that or using an international address, you must pick up your bib in the festival area. Shirts may be picked up on race day.
Please make sure the shipping address provided at the time of registration will be valid when your items are shipped, 5 - 10 days before the race.
There is no charge for domestic shipping. International athletes will need to pick up their bib on race day.
COST
See chart below. NYCRUNS members receive a 20% discount on this race, race deferral rights, and other perks. You can become a member when you check out.
Race day registration (if available) is online only.
| | | |
| --- | --- | --- |
| Half Marathon | Members | Non-Members |
| Through 6/12 | $64 | $80 |
| Through 7/18 | $72 | $90 |
| Through 8/29 | $80 | $100 |
| Through 9/12 | $88 | $110 |
| Until Online Registration Ends | $100 | $125 |
| | | |
RESULTS, AWARDS & FINISH LINE PHOTOS
Results will be emailed  and the full results will be posted on our results page after the race. Finish line photos will also be available on the results page several days after the event.
Awards will be given to the top three male, female, and non-binary runners overall in each race. Age group awards in the half will be awarded to the top three in each the following age groups: 19 and under, 20-29, 30-39, 40-49, 50-59, 60-69  70-79, and 80 and over. Age group awards in the 5K will be awarded to the top three in each the following age groups: 9 and under, 10-14, 15-19, 20-29, 30-39, 40-49, 50-59, 60-69 and 70 and over. Our awards policies are available here.
DIRECTIONS
PATH: Take the PATH Train to Hoboken Station. If you are traveling on the PATH, please check the schedule here for up-to- date service information.
From Hoboken Path head toward NJ transit tracks following signs for "Light Rail" which will take you toward track 17. Pass the tracks and bear right which takes you outside. Continue past track H4 and turn right onto the promenade. Follow waterfront promenade path around the bend to the left. Turn right into Newport Green Park which is about 200 feet from the end of the walkway.
From Manhattan: Take the Holland Tunnel. Upon exiting in Jersey City, make the first right at the Speedway service station. Make a right onto 18th Street which becomes Washington Boulevard. Proceed south. At Newport Parkway, follow race parking signs.
From New Jersey: Take the New Jersey Turnpike Extension (from NJ Turnpike North or South or Rt. 78 East) to Exit 14C. After coming down the ramp, make right at traffic light onto Jersey Avenue. Bear left onto 11th Street Viaduct which becomes Newport Parkway. Pass Newport Centre Mall on right. Make right onto Washington Boulevard. Follow race parking signs.
Parking: The following garages are recommended:
Newport North: Enter on 60 Mall Drive East or 561 Washington Blvd
Newport South: Enter on 2 Mall Drive East or 479 Rear Washington Blvd
We recommend you enter the garage no later than 7:30 AM to avoid being impacted by street closures.
Parking costs range from $5.00 (2 hours or less) to $25.00 (until 12 AM).
Please check MTA Trip Planner for up-to-date and detailed mass transit directions and Google Maps for driving directions. Parking is limited at all of our events, we strongly encourage you to use mass transit.
POLICIES
The standard no-refunds, no-deferrals, no-transfers policy applies, unless you are signed up for the NYCRUNS Membership Program. NYCRUNS members receive discounts, race deferral rights, and other perks. Strollers or dogs are not allowed in NYCRUNS races and you may be disqualified if earbuds or headphones hinder your awareness. You must remain on pace to finish within the time limit in order to receive course support and an official finish time. Please familiarize yourself with our complete policies and rules of competition.
As per the Protecting Young Victims from Sexual Abuse and Safe Sport Authorization Act of 2017, any adult interacting with amateur athletes, defined as a child or minor under the age of 18 that participates in youth running programs or any events hosted or operated by NYCRUNS, has a duty to report a reasonable suspicion of sexual misconduct such as child sex abuse, non-consensual sexual conduct, sexual harassment or intimate relationships involving an imbalance of power within a 24- hour period to local law enforcement by calling the New York State Central Register at 800-635-1522. Participants found to be listed on a sex offender registry, convicted of a sex crime, or caught having, creating, or distributing child pornography will be immediately barred from all NYCRUNS events.
Race Contact