THE CHALLENGE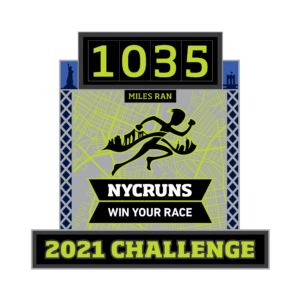 If you like commemorating your achievements (and who doesn't), you're in for a treat. For the first time* in the history of endurance sports every single participant will receive a completely unique commemorative item reflecting their achievement, totally suitable for display. And what is that achievement?  Whatever mileage you ultimately run and/or bike in 2021 (up to 9,999 miles per sport!)
This year long challenge will provide a convenient and meaningful way to track your miles and set your goals throughout 2021 using our brand new Run This One system. At the end of the year, you will have a great picture of everything you've done. A few weeks later you'll have the final piece of your medallion reflecting how great you are!
*OK, this may not be the absolute first time, but its a pretty cool idea and at this point in 2020, we're coasting on hyperbole. Cool? Great, let's move on.
HOW IT WORKS
Most importantly, have fun. The goal is to keep track of what you do, motivate yourself, and maybe even learn something about who you are as an athlete. If you and your friends want to track your progress together, just sign up as part of the same running club or team.
You can run or bike anywhere you want, and you can use treadmills, stationary bikes, whatever.
You can track your miles any way you want and with any device you want. A Garmin watch or the Map My Run app are the best choices.
You will be submitting your miles through  our  Run This One results system which is accessible to registered runners via their dashboard . You can automatically sync via MapMyRun, Garmin Connect, and Strava (though the last is not supported entirely).  You can also keep track of your miles without a device and add them manually of course.
WHAT YOU GET & WHAT IT COSTS
There are four tiers of pricing for the Challenge 2021.
Most runners will probably want to select the I Am Going To Look So Cool tier. For $65, you will receive, the aforementioned super cool medallion, a great looking quarter zip for winter running, and a short sleeve techie for when it warms up.
If you want a little extra, you can also sign up as at the I Want It All level for $125. You'll still receive everything in the Looking Good package and a fantastic Tech Fleece.
Just want a cool ass medallion? Sign up as at the My Mom Will Be So Proud When She Sees This Tier for $50.00.
Finally, if you don't want anything at all, you can participate in the challenge at the Just Keep Me Honest level for just $30. We  won't send you a thing other than email, lots of email. 
If you choose to log running miles and biking miles separately, there is an additional $30. charge.
You will receive two separate shipments for this - one in mid-February 2021 with most of the gear, and one in January, 2022 with the pieces of your medallion that customize it to match your total mileage. Neat, huh?
There is no fee for domestic shipping. International shipping will cost an additional $60.00 - due to their being two separate shipments (sorry).
NYCRUNS members receive a 10% discount, race deferral rights, and other perks.  Due to the charity component, we are unable to allow race credit for this event.
COVID-19 SAFETY
Please follow these practices for running safely during the ongoing crisis and for how to wear a mask while running.
POLICIES
The standard no-refunds, no-deferrals, no-transfers policy applies, unless you are signed up for the NYCRUNS Membership Program.
As per the Protecting Young Victims from Sexual Abuse and Safe Sport Authorization Act of 2017, any adult interacting with amateur athletes, defined as a child or minor under the age of 18 that participates in youth running programs or any events hosted or operated by NYCRUNS, has a duty to report a reasonable suspicion of sexual misconduct such as child sex abuse, non-consensual sexual conduct, sexual harassment or intimate relationships involving an imbalance of power within a 24- hour period to local law enforcement by calling the New York State Central Register at 800-635-1522. Participants found to be listed on a sex offender registry, convicted of a sex crime, or caught having, creating, or distributing child pornography will be immediately barred from all NYCRUNS events.
Race Contact