THE CHALLENGE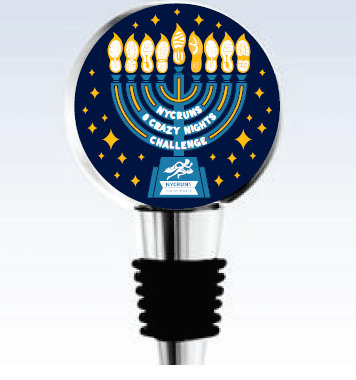 Oy Vey 5K? Chanukah Chalf Marathon?  It's entirely up to you as long as you run 8 consecutive days this December to earn your gelt.   In the brilliant words of Adam Sandler, it's "so much funnukah to celebrate Chanukah!"  We couldn't agree more.
You can start your streak as early as December 1st or as late as December 24th, but you must run or walk at least 1 mile daily for 8 days in a row during the month of December.
HOW IT WORKS
Most importantly, have fun.
You can run or walk anywhere you want, including a treadmill. You may also choose to bike your miles. You can track your miles any way you want and with any device you want.
Once you've run, you'll submit your miles through  our new Run This One results system which is accessible to registered runners via their dashboard. You can automatically sync via MapMyRun and Garmin Connect, or you can runs manually of course.
It's all on the honor system. We trust you.
WHAT YOU GET & WHAT IT COSTS
All runners receive a wine stopper medal and a running gaiter.
If you would like a long sleeved technical shirt that's an option you can add at checkout.
There is no fee for domestic shipping. International shipping will cost an additional $40.00. We will do everything we can to get items delivered on time, but we cannot guarantee this for international shipping.  Shipping will being in November. If you register after December 21st, your package will ship in January.
NYCRUNS members receive a 10% discount, race deferral rights, and other perks.  This event is not race credit eligible.
| | | |
| --- | --- | --- |
| Through 11/15 | $50 | |
| Through 12/13 | $55 | |
| Until online registration closes | $60 | |
COVID-19 SAFETY
Please follow these practices for running safely during the ongoing crisis and for how to wear a mask while running.
POLICIES
The standard no-refunds, no-deferrals, no-transfers policy applies, unless you are signed up for the NYCRUNS Membership Program.
As per the Protecting Young Victims from Sexual Abuse and Safe Sport Authorization Act of 2017, any adult interacting with amateur athletes, defined as a child or minor under the age of 18 that participates in youth running programs or any events hosted or operated by NYCRUNS, has a duty to report a reasonable suspicion of sexual misconduct such as child sex abuse, non-consensual sexual conduct, sexual harassment or intimate relationships involving an imbalance of power within a 24- hour period to local law enforcement by calling the New York State Central Register at 800-635-1522. Participants found to be listed on a sex offender registry, convicted of a sex crime, or caught having, creating, or distributing child pornography will be immediately barred from all NYCRUNS events.
Race Contact