THE CHALLENGE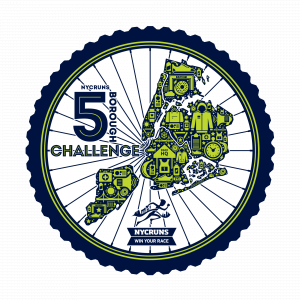 For one of the densest regions on the planet, the five boroughs of New York City are surprising small. If you were to bike or run around the perimeter of all 5 boroughs, the total mileage would only be about 200 miles.*  You have up to five weeks to get it done and you can do it wherever you like. It all starts on June 22nd - the very first week of summer!
This challenge should provide you an excellent test of fitness and an opportunity to broaden your training a bit, no matter how many miles you run or ride weekly.
You get to help out a bit here too as a portion of the proceeds and 100% of donations (minus credit card processing fees) will be going to the The Robin Hood Relief Fund, an established non-profit with a long history in service of NYC. Robin Hood will deploy your support to vulnerable New Yorkers and the organizations on the front lines that serve them during the COVID-19 crisis and its aftermath.
HOW IT WORKS
Most importantly, have fun.
You have a choice between doing this in 5 weeks, 3 weeks or 1 week.
For the main challenge, you must run at least 50% of the miles each week and should select 50/50 on the registration form.
However, if you want to do your own thing and vary your mileage, that's an option too, select Helter Skelter.
5 Week Plan
Manhattan - 34 Miles (Run At Least 17)
The Bronx -  36 Miles (Run At Least 18)
Staten Island - 40 Miles (Run At Least 20)
Brooklyn - 42 Miles (Run At Least 21)
Queens -  60 Miles (Run At Least 30)
3 Week Plan
Queens -  60 Miles (Run At Least 30)
The Bronx & Manhattan -  70 Miles (Run At Least 35)
Brooklyn & Staten Island -  82 Miles (Run At Least 41)
1 Week Plan 
5 Boroughs - 212 Miles (Run At Least 106)
Note:  Regardless of the challenge you should not increase your running mileage anymore than 10% in any given week.
You can run or ride anywhere you want, including a treadmill or exercise bike.
You can track your miles anyway you want and with any device you want. You will be submitting your miles through  our new Run This One results system which is accessible to registered runners via their dashboard  once the Challenge begins.
It's all on the honor system. We trust you.
* As it turns out, it's difficult to say exactly what the perimeter of each borough measures and we've seen conflicting data. Our numbers err on the high side.
WHAT YOU GET & WHAT IT COSTS
There are three tiers of pricing for the NYCRUNS Five Borough Challenge
Most  will probably want to select the Believe The Hype tier. You will receive, a fantastic medal based on our 5 borough design, a great gender specific shirt perfect for summer running, and a  unisex hoodie for those cool summer evenings.
If you want a little extra, you can also sign up at the Oy Vey level. You'll still receive everything in the Believe The Hype package, however, we're not ready to say quite yet what you'll get. You're going to have to settle for a nice surprise.
If you just want a medal, choose How Sweet It Is. Alternately, if you don't want anything at all, you can participate in the challenge at the Fuhgeddaboudit level  and we  won't send you a thing other than email. This is the only option if you do not have a U.S. shipping address.
SHIPPING UPDATE AUGUST 3: We expect to begin shipping swag next week!
Believe the Hype and Oy Vey levels are sold out!
NYCRUNS members receive a 10% discount, race deferral rights, and other perks.  Due to the charity component, we are unable to allow race credit for this event.
THE CAUSE
The Robin Hood Relief Fund is helping New Yorkers by supporting the nonprofit organizations on the front lines. 100 percent of donations will provide emergency support through food, housing, job security and more.
COVID-19 SAFETY
Please follow these practices for running safely during the ongoing crisis and for how to wear a mask while running.
POLICIES
The standard no-refunds, no-deferrals, no-transfers policy applies, unless you are signed up for the NYCRUNS Membership Program. We are not shipping overseas for this event, so please select the Fuhgeddaboudit option if you are abroad and want to participate.
As per the Protecting Young Victims from Sexual Abuse and Safe Sport Authorization Act of 2017, any adult interacting with amateur athletes, defined as a child or minor under the age of 18 that participates in youth running programs or any events hosted or operated by NYCRUNS, has a duty to report a reasonable suspicion of sexual misconduct such as child sex abuse, non-consensual sexual conduct, sexual harassment or intimate relationships involving an imbalance of power within a 24- hour period to local law enforcement by calling the New York State Central Register at 800-635-1522. Participants found to be listed on a sex offender registry, convicted of a sex crime, or caught having, creating, or distributing child pornography will be immediately barred from all NYCRUNS events.
Race Contact