12,500 Runners Expected As The Rechristened NYCRUNS Brooklyn Marathon And Half Marathon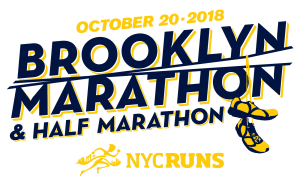 Takes A Huge Leap Forward This OctoberNew York City Runs (NYCRUNS) announced today that its signature event, the Brooklyn Marathon, will be held on the streets of Brooklyn for the very first time in its eight-year history. Previously, the race was held entirely in Prospect Park, and the new race will include long stretches of Brooklyn's streets. In addition, NYCRUNS will be adding a half marathon to the event and both races will take place a month earlier than usual, on October 20th.
"To say we're over-the-moon excited is an understatement," said NYCRUNS founder Steve Lastoe. "We've been working towards this for a long time and the dream of the Brooklyn Marathon is embedded in the DNA of our entire organization. We're looking forward to making an already great race even better and building not only the event that Brooklyn deserves, but also one that gives back to Brooklyn in numerous ways. This is a landmark opportunity, and we're indebted to our partners in the city of New York and the NYPD for giving us the opportunity."
The 2018 NYCRUNS Brooklyn Marathon and Half Marathon, will start on Eastern Parkway near the Brooklyn Museum. The race will showcase Brooklyn neighborhoods including Prospect Heights, Prospect Lefferts Gardens, Crown Heights, Windsor Terrace, and Kensington. Half marathoners will then run almost a full loop of Prospect Park, while marathoners will complete a total of nearly five loops of the park.
Upon hearing the news, former race director Michael Ring remarked, "I'm so excited that the race I helped conceive eight years ago is taking it to the streets. It's great to see this grassroots homegrown race hit the streets in Brooklyn." Added Ring when asked if he will be running, "Yes I am!"
Tom Meany, President of Prospect Park Track Club added, "I sounded the horn to start the first Brooklyn Marathon in Prospect Park and I knew then that this was an historic moment in Brooklyn running. I always knew it's future would be on the streets of Brooklyn and now it's finally true. Brooklyn has waited a long time for this and it's great to see it finally happen!"
Added Lastoe, "While this is a hugely important step for the race, we're truly looking forward to the end game wherein 23 miles of the marathon is on the streets and we are able to raise tens of millions of dollars for local causes." The best is yet to come.
Registration for the 2018 NYCRUNS Brooklyn Marathon and Brooklyn Half Marathon is available at https://www.nycruns.com/brooklyn and is expected to open before the end of March.
For more information, please contact press@nycruns.com.
About NYCRUNS
Founded in 2009, since its inception NYCRUNS has launched dozens of new running events in New York City while backboning many more. In 2018, NYCRUNS will produce approximately 40 running races for 500 – 12,500 people. Whether a race is large or small, our goal is to provide runners with the best possible experience from the moment they register until the moment they see their free finisher photos.
NYCRUNS races include the Brooklyn Marathon and Brooklyn Half Marathon, the Queens Half Marathon, the Big Apple Half Marathon, and the Central Park Half Marathon. Notable client races include the Empire State Building Run-Up, the New York Jets Green & White 5K, the Brooklyn Cyclones Take Your Base 5K, and the Prospect Park Track Club Turkey Trot.
NYCRUNS races are accurately measured and electronically timed. They're supported by a world-class medical team and produced by a highly trained staff. Post-race festivals feature fresh New York bagels (with a shmear, of course – this is New York), New York state apples, and a great DJ. Our events are fun, vibrant, and all about showing you a great time.
Simply put, week in and week out, our goal is to put on the best races in New York City.