Clif InterClub Challenge
The Clif InterClub challenge is our annual race series that focuses on local running clubs, increasing their visibility to potential new members and providing them with more opportunities to compete with one another. This year, the Clif InterClub Challenge moves to Roosevelt Island with twice as many opportunities to score for your club. See below for details about scoring and prizes.Not only that, we welcome our new title sponsor Clif, who will be providing Clif Bars and other great post race nutrition products at the festival area.

---
2016 Season
NYCRUNS Spring Fling 5K & 10K, 3/19 (Results)
NYCRUNS Mother's Day 5K & 10K, 5/8 (Results)
Public Prep Memorial Day 5K & 10K, 5/30 (Results)
The Running Of The Balls 5K & 10K, 6/19 (Results)
NYCRUNS New York City Ekiden, 8/6 (Results)
NYCRUNS Labor Day 5K & 10K, 9/5 (Results)
NYCRUNS Squirrel Stampede 5K & 10K, 9/25 (Results)
NYCRUNS Haunted Island 5K & 10K, 10/30 (Results)
NYCRUNS Cocoa Classic Central Park 5 & 10 Miler, 01/08/17 (Results)
---
Current Standings
Click image to enlarge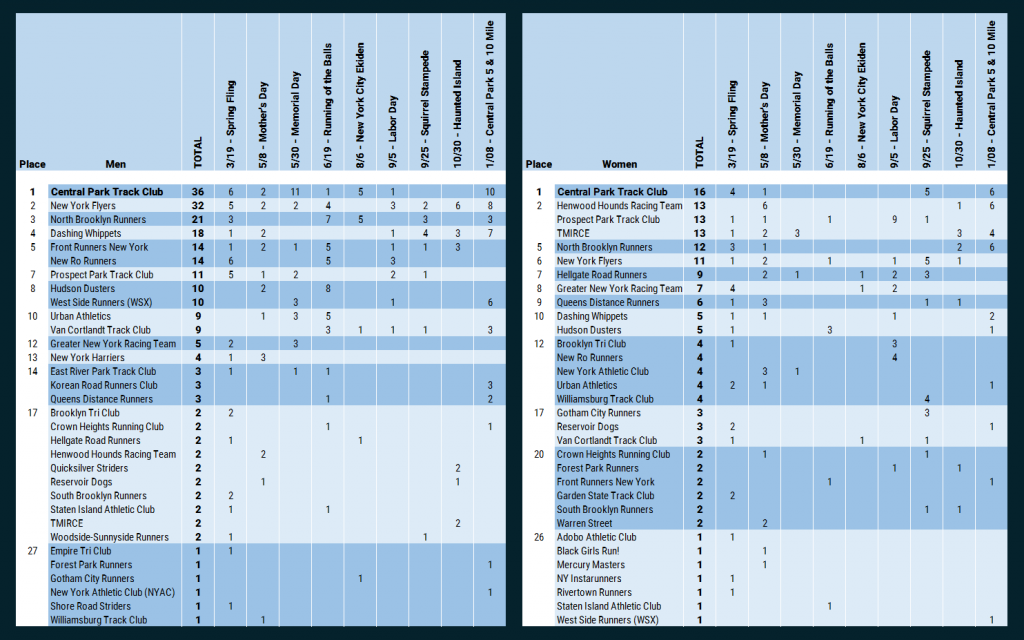 ---
Points & Scoring
1. There are two separate divisions- male and female. Each division is a separate competition.
2. Any club can score a maximum of 10 points per division per race. Other than the Ekiden, each event has two races – a 5K and a 10K.
3. 5Ks & 10Ks: 1st Overall in your gender is worth 6 points. 2nd overall is worth 5 points. 3rd overall is worth 4 points.
3. 5Ks & 10Ks: 1st in your age group is worth 3 points, 2nd in your age group is worth 2 points, 3rd is 1 point.
4. 5Ks & 10Ks: Each club can earn one participation point per race, per gender (4 total for any event).
5. Ekiden: Overall category win is worth 6 points. 2nd overall is worth 5 points. 3rd overall is worth 4 points. There are no age groups. Male and Open categories score for the men's division. Female and Co-ed categories score for the women's division. A maximum of 20 points per division can be earned.
In the event of a series tie, NYCRUNS will come up with something to settle it that both clubs will agree upon. NYCRUNS is allowed to craft a solution that no one likes.
---
Prizes
A Trophy! The accolades and envy of your peers!
---
Rules
Runners must register online and list their clubs to be counted as club runners or notify theteam@nycruns.com before the race. You may not change or declare club affiliation post race.Your club must be listed in the NYCRUNS Club Directory. Your club must have a website, logo, and contact person to be listed. Contact theteam@nycruns.com to list your club or if you have any questions. You must request your club be added before the first race your club will receive points for. NYCRUNS reserves the right to reject any entity it does not deem a local running club, for any reason.
Clubs may be dropped from scoring if they fail to score a single point in more than one race. (If your club does not appear in the results, they failed to meet this criteria)
All other disputes will be settled as fairly as possible.